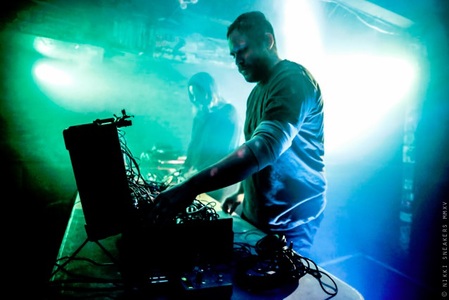 Long Distance Poison delivers its querulous pulsing sonic emanations like Godlike beings attending to the slow ritual roasting of some titanic sacred calf.
--Julian Cope, Head Heritage and author of
Krautrocksampler
With New York's Long Distance Poison, space is unambiguously the place, an endless slow-motion on-rush of IV-drip drones and sprinkler-system synthesizers and rapturous out-of-body experiences.
--Raymond Cummings, The Village Voice
Long Distance Poison present an irresistible concoction of convergent psychedelic and analog electronic energies.
--by Wm. Berger, host of
My Castle of Quiet
on radio WFMU
.
Long Distance Poison is the Brooklyn based experimental electronics project of Nathan Cearley and Erica Bradbury. Through a developed process that uses generative systems, pseudo randomness, improvisation, layering, spectral modulation, drone and noise, LDP creates music that opens up to the mystery.
They have performed at the Ende Tymes Festival, the Basilica Hudson 24-Hour Drone Festival, The Wassaic Project, the MOMA PS1 NY Art Book Fair, the Voice of the Valley Noise Festival, at Pioneer Works as part of a Clocktower Gallery residency and recently completed a video synthesis project called
Rheomodes
with a performance and installation at Printed Matter. They have releases on Deep Distance, Oxtail Recordings, Hausu Mountain, Ecstatic Peace!, Foxy Digitalis, Baked Tapes, Constellation Tatsu and other weird imprints.
Click for complete discography.
Much of our out of print back catalog has been remastered and is for sale via digital distro here:
http://longdistancepoison.bandcamp.com/​
CONTACT: nathancearley@gmail.com
All photos from ESP TV, Nathan Cearley, Nikki Sneakers, Ian Franklin and the Clocktower Gallery.